The present Mill was built in 1873, and has changed little since. Remains of older mills are adjacent awaiting restoration. Like most northern mills of this period, a kiln for drying the grain is integral with the building. Unusually however, the grain, or corn, ground here is bere, an ancient form of barley which is tolerant of the cool temperatures and short growing season of Orkney. Grinding is done in the winter; during summer, the Mill is open to the public and the running of the machinery is demonstrated by the miller. Meal is available for sale for home use and for commercial bakers.
The "Barony" is an area of good farmland in the northwest corner of Birsay near the Earl's Palace. The land here has been a prime estate of the rulers of Orkney since medieval times, and probably Viking times and earlier. The original name of the Mill was Barony; in the 1980s the Mill was called Boardhouse, a name that still occurs in the older guide books.
Rae Phillips - whose father and grandfather were millers at the Barony Mills from 1910-1972 - worked with his father at the Mill from 1957 to 1963 and has returned to be the miller for the Birsay Heritage Trust which has operated the Mill since 1998. On a wall of the Mill are the names of millers who have worked here:
Wm. Hepburn 1873-1886
Malcolm Firth 1887-1909
John Phillips 1910-1940
Wm. Phillips 1941-1972
Olive Flett 1972-1982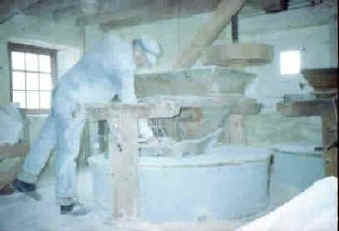 The Miller, Rae Phillips, adjusting grain flow.
Technical Details:
The Mill is stone-built, three storeys high, about 19 x 7.4 metres in plan including the kiln. The overshot waterwheel, about 4.1m diameter, turns at some 12 rpm and requires 110,000 gallons/hr of water when the Mill is running under full load.
Grain received on the ground floor is hoisted to the top floor for drying in the kiln- about a tonne at a time. In comparison with oats, the drying temperature is lower, and the duration only about 6 to 8 hours. A unique wooden shovel powered by the hoist aids in removing the grain from the kiln floor.
There are three pairs of stones on the first floor. Grain is sent to the first pair, the "shelling stones", to crack the husk, thus freeing the kernel. From here the mix drops to a "fanner" - a wind machine that blows away the husks (locally called "scrubs") which can be burnt to heat the kiln. An elevator lifts the grain to a second fanner, after which the grain is delivered to a pair of French burr stones to be ground into a coarse meal (locally, "grap") which is bagged, hoisted, and re-ground by the final set of stones from the Orkney quarry at Yesnaby, a remarkably scenic sea cliff. To view Diagram, click here.
Tours of the Mill:
During summer, the Mill is open to the public and has displays of photographs of old-time farming in Birsay, samples of the produce at each stage of the milling and milling tools. Tours include demonstrations of the running of the machinery. Meal is sold in 1.5kg bags for home use at the Mill, in shops. For commercial bakers, meal is supplied in 20kg bags. Also grain may be bought by the tonne for malting by arrangement with the miller.
Visitor Information: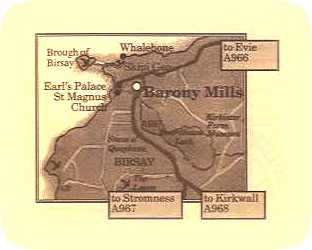 The Mill is located on the main road, A968, from Dounby to the Palace and the Brough of Birsay, both major tourist sites of Historic Scotland.
Opening Hours: 11am - 5pm.
Open every day, seven days a week, 1 May to 30 September.
Admission Free
For Special Groups or Additional Information, CONTACT US at
| | | |
| --- | --- | --- |
| Mill Cottage | | from the UK. 01856 721 439 |
| Birsay | | from overseas +44 1856 721 439 |
| Orkney | | |
| Scotland | or | by email |
| UK | | |
| KW17 2LY | | |
The Barony Mills are operated by the Birsay Heritage Trust, a recognised Scottish Charity SCO 27642.
Barony Mills is a member of the Wind & Watermill Section, Society for the Protection of Ancient Buildings.
Our Beremeal is listed with Orkney Quality Food & Drink.

---
Recipes Using Beremeal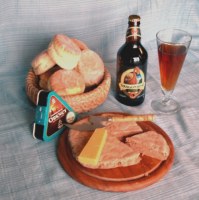 from Barony Mills,
Birsay, Orkney
Bere has been grown in Orkney for thousands of years, both for human and animal food. In the old days, it was called Bygg, and this is still the name given to barley in Norway. Although we call the meal beremeal, the crop is usually called corn in Orkney. It has been the staff of life in Orkney - in the form of bere bannocks and home brewed ale - since time immemorial. It is a variety of barley, although it differs in both appearance and taste. The gourmet will easily tell the difference between ale made from barley and that made from bere. The same applies to bannocks. Generation after generation of Orcadians have been raised on bere bannocks and, when they were older (and perhaps not so much older), on ale as well. Here are a few recipes:
Orkney Bere Bannocks
There are various recipes for baking bere bannocks, but the most common is probably something like this:
2 c. of Birsay beremeal
1 c. of plain flour
1 tsp. baking soda
1 tsp. cream of tartar
salt (if desired)
Mix thoroughly, add milk, water or buttermilk to make a stiff but soft dough, roll out on a floured (mixture of flour and beremeal) board to form the bannocks (this will make 2 or 3), then cook on a hot, ungreased girdle 5 minutes or so each side until both sides are browned and the middle is cooked. Practice will make perfect. Consume with copious amounts of ale (plus plenty of Orkney butter and cheese.)
Birsay Biscuit
(J. Scott, Chocolate Cottage, Birsay, Orkney)
Beremeal Scones
(M. Phillips, Mill Cottage, Birsay, Orkney)
1½ cups Birsay beremeal
1 cup self-rising flour
1 Tbls golden syrup
1 tsp baking soda
½ tsp cream of tartar
½ tsp salt
2 oz margarine
1 cup milk (or buttermilk)
(1) put all in a basin and mix to a very soft dough
(2) divide into two and roll out to ½" thick circle and mark into four wedges
(3) bake in oven at 400°F/gas mark 6 for 10 minutes
yield: 8 scones
Beremeal Chapattis
5 oz (125mg) Birsay beremeal
½ tsp salt
½ Tbls cooking oil
2 oz (fluid) water (approx.)
(1) Mix the flour with the salt and oil, add the water (just enough for the mixture to hold together - not too wet).
(2) Leave covered in the fridge for at least 2 hours.
(3) Divide mixture into 8 parts and roll each piece out to about saucer size.
(4) Cook on a hot bakestone/girdle or in a clean dry frying pan over a high heat until going brown in patches on the underside, then turn over and cook the other side.
(5) Keep warm in a clean dry tea towel as you cook them and serve as warm as possible.
These are particularly good with soup or curry, or with jam or marmalade for breakfast.
******************
MORE RECIPES, PLEASE. If you have a traditional recipe using bere or if you like to experiment and have hit upon a tasty bere dish, please contact us and we will publish your recipe, if you wish.
ENQUIRIES from Commercial Bakers, Restaurants, Brewers, Distillers and Health Food Shops are Invited.
Please Email us.